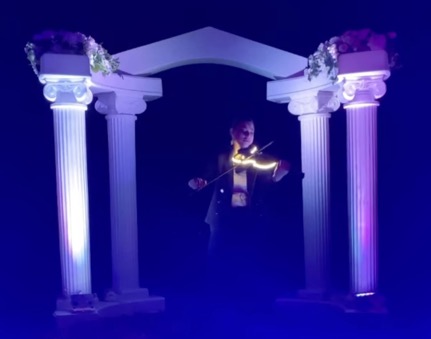 Imagine my surprise when I received a lead for Thursday wedding - on that Thursday! Always up for a last-minute performance, I called the client (the groom) who explained that his wedding violinist had cancelled. So we spent the next 30 minutes creating a customized wedding ceremony and cocktail hour music program, and an hour later, I was on my way! They are a bi-cultural couple (the groom is Peruvian and the bride is American) so the wedding ceremony and cocktail hour program included both Latin and American songs! It was a gorgeous backyard wedding in Fredricksburg, Virginia, at night and lit up with LED lights, so my LED Light-Up Violin was the perfect fit for the ceremony! The couple was super happy with their wedding music! 
Wedding Ceremony Music Program:
Wedding in Fredricksburg, Virginia
Pre-Ceremony Music: All of Me by John Legend, You Are The Reason by Callum Scott, Entra en Mi Vida by Sin Bandera, Amor Del Bueno by Reyli Barba, A Thousand Years by Christina Perri
Bride's Entrance Song: Perfect by Ed Sheeran
Couple's Exit Song: Promise by Usher and Romeo Santos (Special Request)
Instead of a cocktail hour, they served dinner 
Dinner Music: Thinking Out Loud by Ed Sheeran, Darte Un Beso by Prince Royce, Stand By Me by Prince Royce, Lamento Boliviano by Enanitos Verdes, Brillas by Leon Larregui, Just The Way You Are by Bruno Mars, Girls Like You by Maroon 5, The Way You Make Me Feel - Michael Jackson, Yellow by Coldplay,  All My Life by KC and Jojo, Señorita by Camila Cabello and Shawn Mendes, Treasure by Bruno Mars, With You by Chris Brown, Electric Love by Borns, and Intentions by Justin Beiber.
As you can see it was a unique playlist and I loved performing these songs on the electric violin with backing tracks for them! 
Check out the link below to view a video of "Perfect", and visit my Instagram to see more samples of my playing and examples of the events where I provide violin entertainment in the Washington DC/DMV Area!
https://www.youtube.com/shorts/bkaHRIrTTIo
www.instagram.com/singersandstrings
Stephanie Mathias, Owner
Singers and Strings Event Music, LLC